Washington County 4-H Rabbit and Chicken Show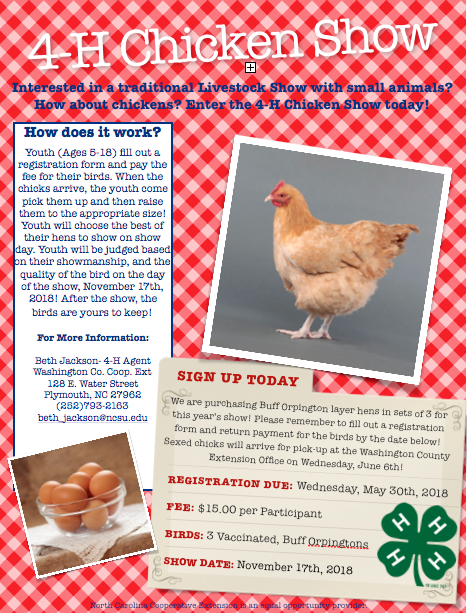 2017 Open Rabbit and Chicken Classes Flyer
2017 Open Rabbit and Chicken Classes Application
2017 Layer Hen Class Flyer – Black Laced Silver Wyandottes
2018 Layer Hen Class Flyer – Buff Orpingtons
2018 Layer Hen Class Application – Buff Orpingtons 
CLICK HERE for the 2016 Rabbit and Chicken Show Article and Check out our Facebook Page, Washington County NC 4-H for more pictures of the 2016 show!
2016 Open Rabbit and Chicken Show Rules
Project Record Pages: 
A complete Rabbit and Chicken Show Project Book includes both 4-H and Animal Record Pages. 4-H pages can be downloaded from the NC 4-H Website, and Animal Record Files are linked individually. All of these links can be found below! Project Records are due December 31st annually! *Please remember to use your 4-H Age (Age as of January 1st, 2016)!*
NC 4-H Project Pages & Information – Click Here
Animal Record Pages:
Was the information on this page helpful?